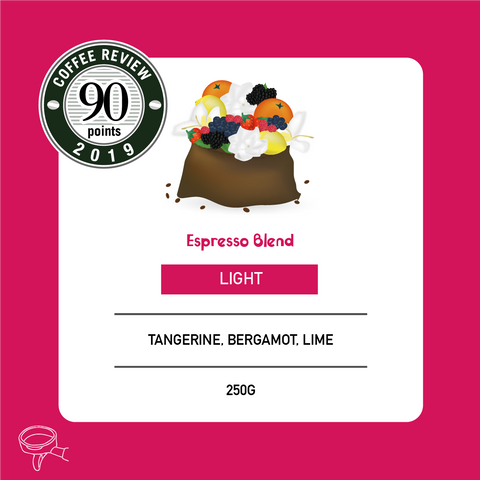 Fruit Adventure 意式拼配豆
May 2019
Agtron:
57/74
Aroma:
9
Body:
8
Flavor:
8
Aftertaste:
7
With Milk:
8
Evaluated as espresso. Deeply sweet, richly tart, pungent. Dark chocolate, jasmine, mango, green tea, tangerine zest, cedar in aroma and small cup. Full and syrupy though slightly rough mouthfeel. The finish consolidates around quiet cocoa and citrus. Flowers and green tea in particular carry into three parts milk.
Notes:
A blend consists of wet-processed and dry-processed coffees from Ethiopia. Sensory House is a roastery, espresso bar, equipment distributor and training lab based in the Kowloon City District of Hong Kong. Sensory House develops quality espresso blends and sources and roasts high-end single-origin coffees. Visit www.sensoryhouse.coffee to learn more.
The Bottom Line: A lighter-roasted blend of fine Ethiopia coffees for those who enjoy sweetly tart, high-toned espressos.
Review Date:
---
We Also Recommend
---